Cannelonni Stuffed with Hake and Shrimps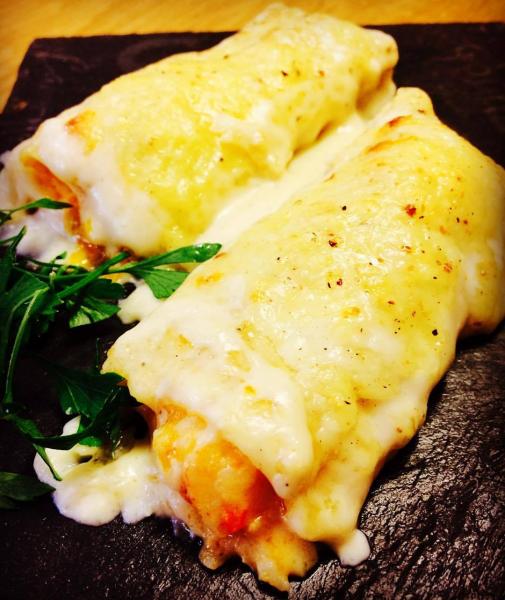 This week we keep on cooking and sharing with you this wonderful recipe Cannelloni stuffed with hake and shrimps. They are delicious  You will love them. The Cannelloni has all the benefits of the pasta, especially a large amount of complex carbohydrates. The filling that we have used hake and shrimps also provides a good dose of proteins, vitamins and minerals. The content of calories is moderated. We share the recipe with the confident that you will love it:
---
Ingredientes
16 sheets of cannelloni
2 tablespoons grated "emmental " cheese
4 butter tablespoons
For the filling:
250 grams of shrimp
250 grams of hake
1 clove of garlic
1/2 onion
2 leeks
1 carrot
1 stick of celery
1 glass of brandy
1 small green pepper
2 tablespoons homemade tomato sauce
6 tablespoons olive oil
Salt
pepper
For the bechamel sauce:
50 grams of butter (3 tablespoons)
50 grams of flour (3 tablespoons)
½ liter of milk (2 cups)
Salt
pepper
nutmeg
cheese to grate
HOW TO PREPARE:
* To start with we are going to peel the shrimps and reserve the bodies.
* We cook the plates of the cannelloni in boiling water with salt and a splash of oil, following the manufacturer's instructions. Remove them, drain them, and place them on a cloth.
* And now we prepare our bechamel sauce. We melt the butter in a small saucepan, add the flour and cook for a few minutes. Add the milk gradually, beating with rods to prevent lumps.
* We season with salt, pepper and nutmeg. Add the cheese, stir and remove from the fire. And we have our béchamel ready.
* We start now to prepare the filling. And to do this we are going to cook in a pan with olive oil the chopped leek into thin slices, garlic, and pepper.
* Add the hake and shrimp into small pieces, add tomatoes, and mix it with a few tablespoons of bechamel that emulsifies and then we are going fill the cannelloni.
* Put them in an oven pan, cover with the white sauce, sprinkle some cheese and the butter and let's cook it in the oven for 15 minutes.
And ready to enjoy at the table with this great dish :-) You will love it, promise :-)
Happy week ;-)