Chicken Breasts stuffed with Vegetables and Serrano Ham cooked with a sauce with Tintilla Sherry Wine - Tintilla de Rota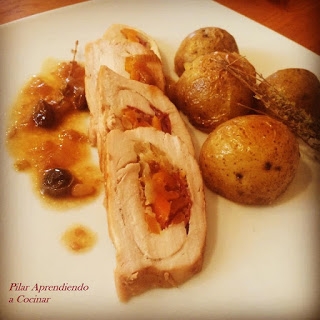 This week we are cooking and sharing these rich rolls of chicken stuffed with ham and vegetables cooked in a sauce with Tintilla de Rota, sweet sherry wine :-) Very rich and very easy to prepare :-) Ideal to surprise your guests, family and friends :-) We have cooked it with our popular sweet sherry wine from Rota, the Tintilla de Rota, produced by Bodegas El Gato, in this case, which is very rich :-) A unique taste :-) We are ready to share our recipe :-)
---
Ingredientes
2 chicken breasts
1 spring onion
1 clove of garlic
1 carrot
2 slices of Serrano ham
1 sherry glass of "Tintilla de Rota" sweet sherry wine
2 Tablespoons extra virgin olive oil
For the sauce:
-1 spring onion
-1 clove of garlic
-1 handful of raisins
-(4 tablespoons) extra virgin olive oil
-7 oz or 125 ml. of water
* We are going to open the breasts like a book and crush them with a mallet. Season them.
* In a frying pan let's add the oil and start to cook. Add the chives cut into sticks, a chopped garlic clove, then add carrots, also into sticks. We are going to fry for a few minutes.
* Once it is cooked we drain the vegetables and keep aside.
* We will now fill the chicken breasts. We extend the slices of ham over the chicken breasts.
* And we are going to place the reserved vegetables over the ham. We roll the chicken breasts and seal them with a toothpick.
* In a frying pan with two tablespoons of oil we will fry the chicken rolls for a few minutes to seal. We keep them aside.
* We will then prepare the sauce in the same pan. Fry the chopped onion, the clove of garlic and then add the raisins and the Tintilla of Rota. Let's stir.
* Add the chicken breast rolls and water to this sauce and cook them in the sauce for 15 minutes.
And we are now ready to enjoy at the table these rich chicken breasts in sauce cooked with Tintilla de Rota. We have accompanied them by some rich baked potatoes. Have a great week and we really hope you enjoy it very much :-)