Marmitako de Atún – Basque Tuna Stew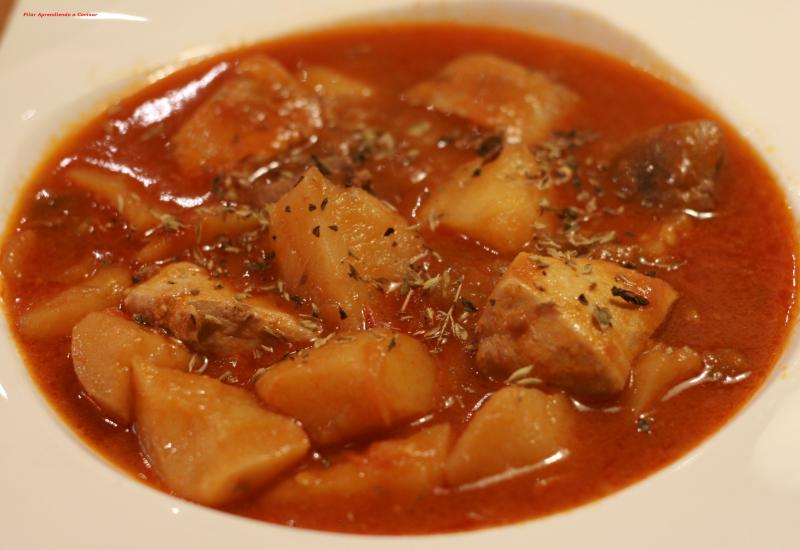 This week we want to prepare for you a very hearty, tasty stew that is also very healthy, the Tuna Stew "Marmitako". We are in Tuna season now and we really want to enjoy it and make the most of it. It's a stew cooked with tuna, or albacore, which is principally prepared with potatoes, onions, peppers and tomatoes. Its origin is found with the Cantabrian fishermen or Basques, (Marmitako in the Basque Country or Marmita in Cantabria). Tuna is one of the most consumed blue fish in our country. Tuna meat contains 12% of fat, which makes it a fatty fish, but it is a fat that is rich in omega-3 fatty acids, which helps to lower cholesterol and triglycerides levels in blood and also thins the blood, which reduces the risk of atherosclerosis and thrombosis. For this reason, it is recommended that tuna and other oily fish be consumed for those with cardiovascular diseases. Tuna is the most habitual fish in our diet that has a high biological value protein content (23 grams per 100 grams), higher even than that of meat. When compared with the majority of fish, tuna's nutritional composition of diverse vitamins and minerals stand out. The vitamins of the B group include B2, B3, B6, B9 and B12. The content in the latter even exceeds meat, eggs and cheese, foods that are natural sources of this vitamin. Compared to most other fish, the proportion of other water-soluble vitamins is superior in tuna, although the amount is unimportant when compared with other foods containing these nutrients such as whole grains, legumes, green leafy vegetables or meat in general. These vitamins augment the benefits of energy nutrients (carbohydrates, fats and proteins). In addition, tuna's vitamins are involved in various processes of great functional importance such as the formation of red blood cells, the synthesis of genetic material and the functioning of the nervous system and defenses, among others. Tuna also contains significant amounts of fat-soluble vitamins A and D. The first contributes to the maintenance, growth and repair of the mucous membranes, skin and other tissues of the body. In addition, it also promotes resistance against infections and is needed for the development of the nervous system and night vision. It also promotes bone growth and is involved in the production of enzymes in the liver, adrenal and sexual hormones. Furthermore, vitamin D promotes calcium absorption and its fixation to the bone, in addition to regulating the level of calcium in the blood. Source: http://pescadosymariscos.consumer.es/atun/propiedades-nutritivas And after learning about the many nutritious properties of tuna, we are ready to share the recipe for this week. We are sure you will find this dish very easy to prepare.
---
Ingredientes
1 1/8 lbs. (1/2 kg.) (One Piece) Tuna Loin, cubed
2 1/4 lbs. (1 kg.) of Potatoes
1 Onion, finely diced
2 Cloves of Garlic, chopped
1 Green Pepper, chopped
2 Grated Tomatoes or 4 tablespoons of Crushed Tomato
2 Dried Red Peppers (ñoras, if possible), chopped
2 "Piquillo" Sweet Peppers, chopped
1 tablespoon Sweet Paprika
1/2 cup (100 ml.) Mild Olive Oil
1/2 cup (100 ml.) White Wine
1 splash of Cognac
2 glasses of Water (or the amount of water needed to cover the stew)
1 bouillon cube Fish Stock
WAY OF COOKING:
* We begin by peeling the potatoes, break them into chunks and put them in a bowl of water. (The breaking can be done by inserting the knife into the potato just a little bit and then twisting the blade so that it breaks off little chunks of potato)
* In a pot with hot olive oil we start to cook the diced onion (brunoise style), once it is soft we add the chopped garlic, when golden brown, add the chopped peppers (the green and the red "piquillo" peppers), stirring everything together.
* We add the well drained potatoes and turn them on all sides so they cook and absorb the flavor of the vegetables.
* We add now the grated tomato, paprika and continue to mix well.
* Then we pour in the wine and the cognac and cook it until it evaporates.
* We add enough water to just cover the stew of potatoes and add the fish stock cube diluted in a quarter of a cup of warm water.
* And now we cook everything on low heat until the potatoes are tender, about 1 hour.
* 5 minutes before the end of the cooking we add the tuna chunks, seasoned with salt and pepper.

And now let's eat this delicious and tasty stew :-) you will love it !!!