Meat Pie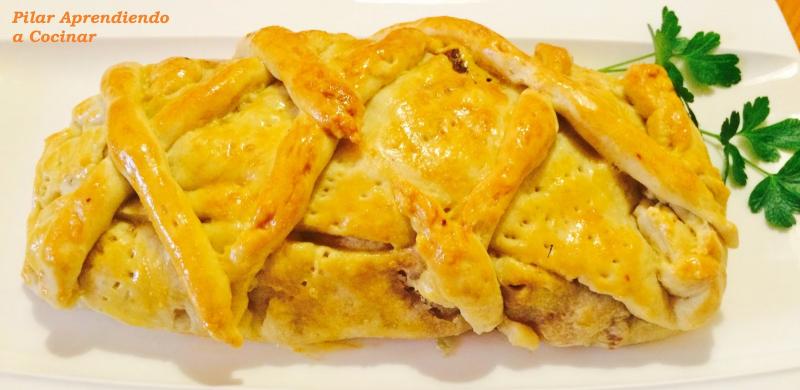 This week we want to share with you a very simple recipe to prepare, a delicious meat pie, ideal to enjoy with friends, family,... you will love it!.! We will explain to you how to prepare the dough, but if you don't have time, you can use two sheets of puff pastry (hojaldre) from the supermarket and your meat pie will still turn out very rich and very yummy. The filling is exquisite :-) you will succeed for sure !! We'll now share the recipe, hoping that you like it and wishing you are having a great month of July :-)
---
Ingredientes
2/3 lbs (300 Gr.) of dice-sized cubed pork
1 onion
1 red bell pepper
2 eggs
1 egg yolk
1/3 cup (50 Gr.) of raisins
1 1/2 cups plus 2 Tbsp (200 Gr.) Flour
1 oz or 1 3/4 Tbsp (15 Gr.) of Baker's yeast
Olive oil
Salt
HOW TO PREPARE:
* To begin we will prepare our pie dough. We mix 1 1/2 cups plus two tablespoons (200 gr.) of flour with a pinch of salt.
* We incorporate the yeast diluted in 1/4 cup (50 ml) of warm water. Then add 1/4 cup (50 ml) of olive oil and knead. We will make a ball and let it rest in a bowl, covered with a cloth, until it doubles in volume.
* We will now immerse the raisins in warm water and let them soak for 30 minutes.
* Now we boil the eggs in salted water for 10 minutes. We will cool them in cold water, peel them and slice them.
* We will clean the red bell pepper, wash and dry it. Peel the onion too and finely dice both of them.
* Then we will sauté them for 5 minutes in a pan with the bottom covered in oil.
* We add the cubed pork and sauté it as well. Then add the drained raisins and stir everything well.
* We preheat the oven to 356 ºF (180 ºC). Spread the dough on a floured table surface and flatten with a rolling pin. Cut the pie crust in half. Cut the edges square and keep the edges for later use. Place one piece on a baking sheet lined with baking paper. We then spread the meat and raisin filling in the middle and cover this with hard boiled egg slices. Then cover with the second piece of dough and seal the edges.
* We cut the dough we trimmed from the sides into strips, and interlace these strips over the top of the pie to form a lattice. We then brush the surface with beaten egg yolk and bake the pie for 25 minutes.
* And our exquisite "Empanada de Carne" meat pie is ready to serve at table ;-) The pie will look great and you will see how tasty it is.
Happy Week to you all and enjoy it very much :-)