Monkfish in Green Sauce (Rape en Salsa Verde)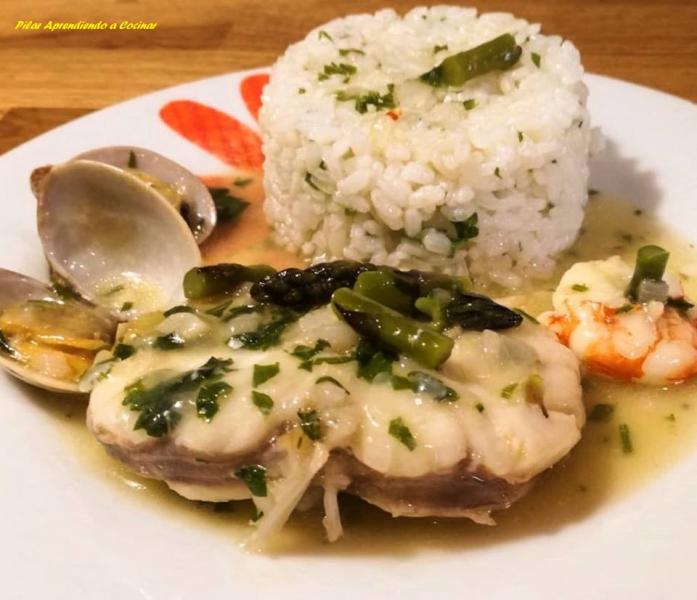 This week we are going to cook one of our favourite ingredients, Monkfish, and we do it in green sauce with prawns and clams. The result is super, very rich and tasty. As side dish fried rice with garlic is a great option. And we ready to share our recipe this week :-)
---
Ingredientes
500 g. (1 lb) fresh monkfish
8 King prawns
250 grs. fresh clams
4 green asparagus
1/2 medium onion
1 leek
3 garlic cloves
50 g. of peas
Salt
Parsley
Sherry wine
Corn Flour
Extra virgin olive oil
HOW TO PREPARE:
* In a pan with some oil we are going to fry the cloves of garlic, the leek and the onion cut into strips. When they are fried we are going to add the glass of dry Sherry Wine and continue cooking until the alcohol evaporates.
* And now let's prepare the Monkfish. We will season it and dip in the flour slightly.
* In the pan we used to poach the vegetables, with some olive oil, we're going to fry the monkfish slices.
* Cook continuously moving the pan with lateral movement and in this way the monkfish will be releasing its jelly sauce. This way, our sauce will be thickening as if it were a pil pil sauce.
* When we notice our fish is done we are going to add the peeled prawns, the clams, the green asparagus, chop the parsley and sprinkle it on top. Remove it from the fire.
And we are ready to sit down at the table and enjoy this rich recipe that you will love.
Have a great week.