Rice with Mushrooms and King Prawns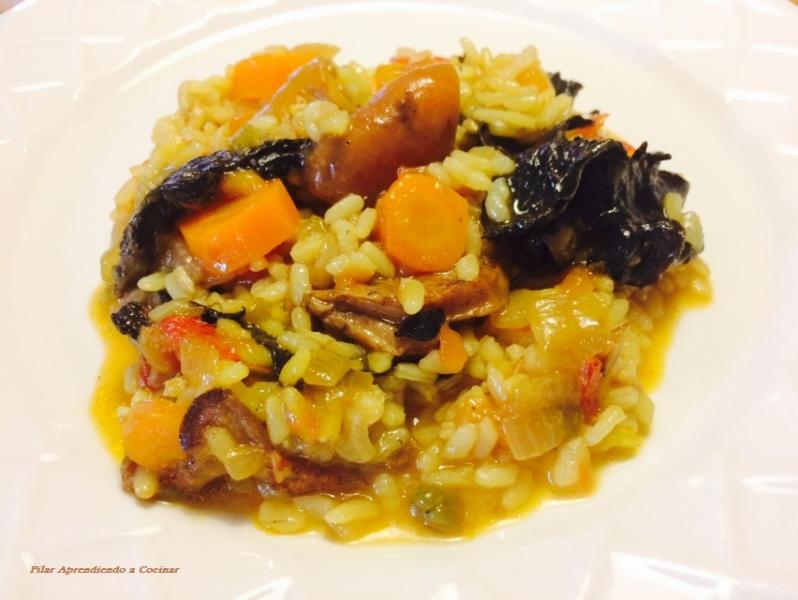 We are back to the kitchen to cook and share with you a very nice recipe that we are sure you will love :-) It is time for mushrooms and we really love them, sol let's cook a lot of recipes with them. mushrooms provide many of the nutritional attributes of produce, as well as attributes more commonly found in meat, beans or grains. Mushrooms are low in calories, fat-free, cholesterol-free, gluten-free, and very low in sodium, yet they provide important nutrients, including selenium, potassium (8%), riboflavin, niacin, vitamin D and more. And this is our recipe, we really hope you enjoy iy:
---
Ingredientes
½ kg. rice
¼ kg. assorted mushrooms
250 grs. King prawns
2 tomatoes
1 onion
1 green pepper
1 red pepper
3 cloves of garlic
1 sprig of parsley
a cup of olive oil
1 small glass of sherry fine wine from Jerez
1 liter of seafood broth
Salt
Black pepper
HOW TO PREPARE:
*We are going to start cooking the stir-fry. We will chop all the vegetables into small cubes, the onion, the cloves of garlic, and the peppers. And in this order, we are going to start to fry them in a pan with several tablespoons of olive oil.
*After a few minutes of cooking, and once the vegetables are poached, let's add the tomatoes also cut into small cubes.
*We add the peeled king pranws and then the clean and chopped mushrooms, season and fry them for five minutes
*Then add the Sherry and continue cooking for a few minutes until it evaporates.
*Then add the chopped parsley and the rice.
*We will cook it for a few minutes and then add the water.
*And we will continue cooking for another 20 more minutes.
*We take it away from the fire and let rest our rice with mushrooms for a few minutes before serving at the table.
Enjoy it :-) Buen Provecho amigos :-)