Supreme Scalloped Potatoes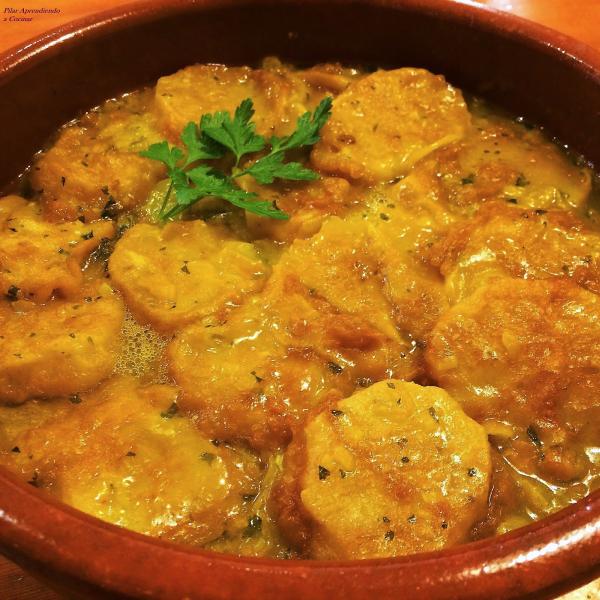 This week we are going to cook for all of you, these exquisite "Supreme Scalloped Potatoes". You will see how easy they are to prepare and how delicious and tasty they are as well :-) According to our wise friend "Wikipedia", this potato dish is originally from the province of Palencia in the north of Spain, but it is also now very popular in the cuisines found throughout the rest of Spain (especially in Madrid). It is a dish that evokes ancient recipes and which often appears on the menus of Spanish restaurants. It is considered to be a popular and economical dish. It is served hot and freshly made. It is a very popular recipe that seems to have been created in the long post-war period in Spain (1940s) and as a result of famine, the need to satisfy widespread hunger and because potatoes were widely available. The Spanish name, "Patatas a la Importancia", seems to come from the wonderful role the dish plays in the meal, since it is a recipe where the potato is the star ingredient and it has a very elaborate appearance, more so than potato side-dishes like "patatas viudas" and "patatas a lo pobre". Potatoes were a very important part of the diet of the time as there was little else to eat at the same price and as available as potatoes. And now it is time to share the recipe, which we really hope you like as much as we do :-)
---
Ingredientes
1 3/4 pounds (800 Gr.) potatoes
Extra virgin olive oil
2 cups of water or broth
2 cloves garlic
A pinch of Saffron threads
1 onion
Flour
3 eggs
1 stalk of parsley
Salt
HOW TO PREPARE:
* We are going to peel, wash and cut the potatoes into slices of approximately 3/8 inch (1 cm) thickness, and then salt/pepper them.
* We put some flour on a dish and beat the eggs in another one.
* We dredge the potato first in the flour and then into the beaten eggs.
* And now we deep fry them in a pot with hot oil.
* We now make a paste in the mortar, by mashing the garlic, saffron, parsley and salt.
* We heat about 3 Tablespoons of olive oil and then sauté the peeled, diced onion until it begins to brown.
* To the onion, add a tablespoon of flour, give it several quick stirs, and then add the mashed garlic/saffron/parsley paste, while stirring continuously.
* We are going to layer the fried potatoes in a stove top casserole dish; we will then sprinkle the onion preparation over them and add two cups of water or broth.
* Heat on the stove top and when it begins to boil, salt as needed, reduce heat and cook over low heat for 20 minutes, moving the pot carefully from time to time.
* And finally we are going to stick the potatoes with a skewer to make sure that they are tender and now it is the perfect time to take them off of the heat and bring them to the table.
And our "supreme scalloped potatoes" are already ready to serve at the table and to enjoy them, they are delicious, you will see :-) Good week to you all :-)