Leche Frita (Fried Milk)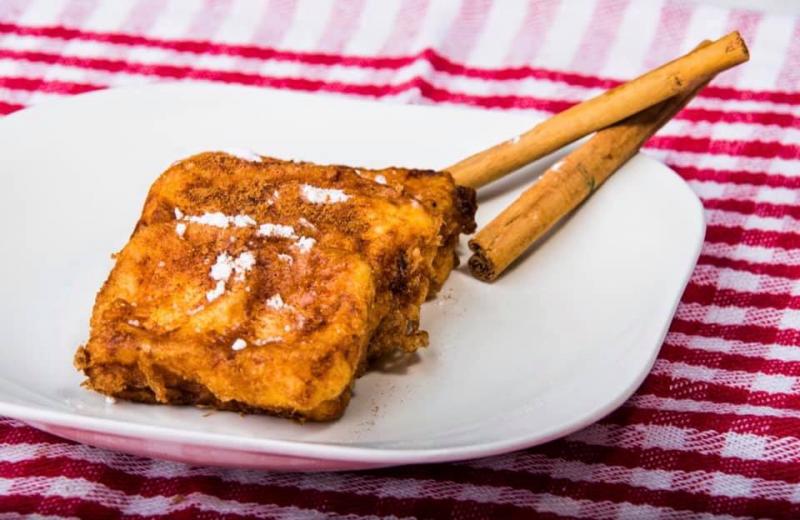 We are back in the kitchen to cook for you a very special dessert typical from Spain, specially at this time of the year, Semana Santa, Leche Frita (Fried Milk). It is very yummy and besides very easy to prepare. Once you start eating it we assure you that you can't stop ;-) This is the recipe and we really hope you enjoy it as much as we do at home:
---
Ingredients
* ½ liter of whole milk
* 4 egg yolks
* 100 grams (3.5) of sugar
* 70 grams cornstarch
* Cinnamon
* 1 cup sweet wine Tintilla de Rota
* Vanilla ice cream
For the batter:
* 2 eggs
* wheatflour
Preparation
HOW TO PREPARE:
⦿ We boil the milk with the cinnamon and the sweet sherry wine
⦿ We separate the yolks from the eggwhites and beat the eggyolks, add the sugar, the cornstarch, and mix all the ingredients in a bowl.
⦿ Add the hot milk (after having been boiled with cinnamon and lemon), stir and back to the pot.
⦿ We keep stirring the mixture that is going to turn into a thick custard.
⦿ Put it in a rectangular tray, cover it with silver foil paper and put it in the freezer.
⦿ And now it is the moment to prepare. Remove the mixture from the freezer, cut it into square, we pass them first by beaten egg and then by the flour.
⦿ Fry them just straight out of the freezer in very hot oil.
⦿ Let them drain the oil on absorbent kitchen paper and then pass them by sugar and cinnamon. And ready to enjoy together with some vanilla ice cream.
Have a great time in Rota and we really hope you are enjoying Semana Santa with us :-)
Picture by José Manuel Marcos Granado and recipe English text revised by Natasha Morford