Potato Salad (Papas Aliñás)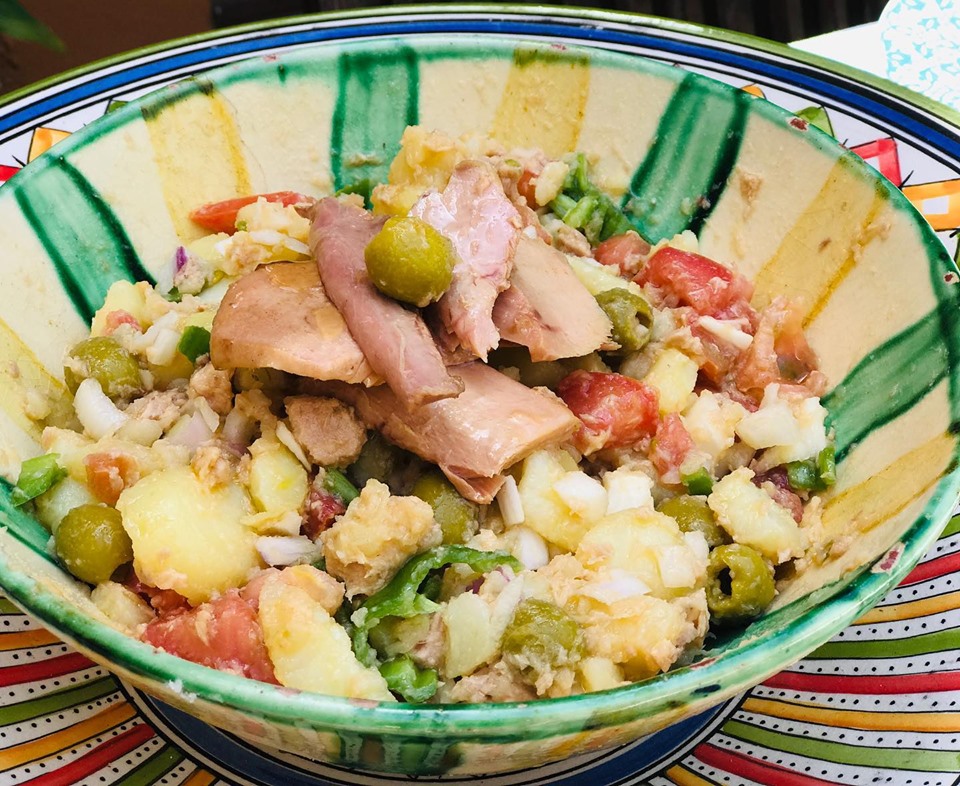 This is a very nice salad, typical dish from the province of Cadiz and ideal to enjoy in summertime with friends and family. Most people take it to the beach or the countryside for lunch. This is the recipe that we really hope you enjoy as much as we do at home:
---
Ingredients
3 pounds of new potatoes (medium size)
2 white onions, in small dices
1 green sweet pepper, in small dices
1 red, ripe tomato, in dices
Fresh parsley, diced
Extra virgin olive oil
2 tablespoons Sherry vinegar
Sea salt
2 hard boiled eggs
2 cans of high quality Spanish tuna
Preparation


Wash the potatoes well, put them into a large pot and cover them with water


Cook over high heat and add a tablespoon of sea salt right when the water boils


Allow the potatoes to boil until just tender (when they can be skewed through with a toothpick/fork). This should take about 25 minutes.


While the potatoes are cooking, dice the onion, the green pepper, the tomato and the parsley.


When the potatoes are just cooked through, take the pot off the heat and keep the potatoes in the hot water for another 30 minutes.


Remove the potatoes and place them in a strainer for another 20 minutes, until they're cool enough to handle.


Remove the skin with your hands or with the help of a knife.


Cut the potatoes into thick discs and put them in a glass bowl.


Add the onion, the green pepper, the tomato and the parsley and ½ tablespoon of sea salt.


Next add the vinegar and finally the olive oil.


Adjust for salt and on top add the (drained) can of tuna as well as the sliced hard boiled egg.


And ready to ear and enjoy :-). Buen provecho !