Rice with Meat and Vegetables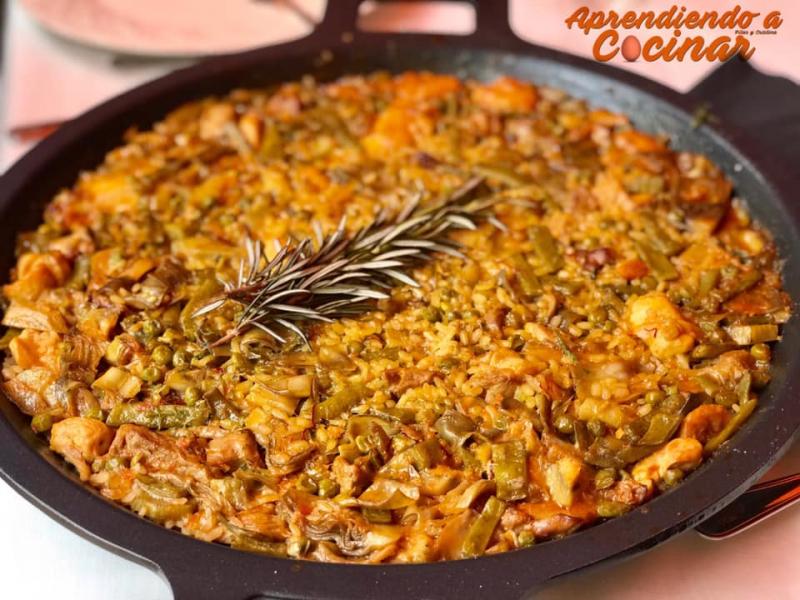 We are cooking today a Rice with Meat. We normally cook it with fish and seafood. But today we had friends at home and we decided to change. The result has been great and the rice was delicious. Here you have the recipe, very yummy and very easy to prepare, you will see. If you follow our steps, you will succeed:
---
Ingredients
For the Stir-fry:
2 grated tomatoes
2 o 3 cloves of garlic
Olive oil
For the meat broth – 1 litre ½ :
the chicken carcass and the bones
½ onion
1 green pepper
Parsley
1 tomato
For the stew:
1 package of Bomba round rice – 500 grs.
300 grs. Pork loin
½ a chicken
300 grs. green beans
4 artichokes
a handful of peas
50 grs. mushrooms
1 full spoon of sweet paprika
Some strands of saffron
500 ml (2 glasses) meat broth
Olive oil.
Salt and ground black pepper.
Rosemary
For the chopped herbs (picada)
2 cloves of garlic
Chopped parsley
Salt
Some Black pepper grains
Some olive oil
For the garlic mayonaise:
1 egg
1 clove of garlic
the juice of half a lemon
Salt
Sunflower oil
Olive oil
Preparation
⦿ To start with, we are going to prepare the meat stock and in a cooking pan we are going to boil the chicken carcass and the bones, the onion and the green pepper in pieces, the parsley and the tomato. We let it boil for half an hour. We strain the broth and we keep it for later.
⦿ Then we are going to prepare the Stir-fry in the paella pan with some olive oil, but first we are going to golden the different meats (Iberian pork and chicken). We take them out and keep them for later too.
⦿ In the same Paella Pan we are going to add the chopped green beans, the artichokes, the peas, and then the garlic (brunoise style) and fry them for 10 minutes. Then we add the sweet paprika, we toast it and then the grated tomatoes and the saffron Straits (A trick: we put the saffron into a piece of aluminium foil and let it warm up on the remaining heat of the fire we have used). We stir it a bit.
⦿ Then, it is the moment to add the different meats and stir it. We add 2 glasses of broth and cook for 30 minutes so that the meats cook well.
⦿ After this time we add the rice, we stir it and then add the rest of the broth (the proportion is a glass of rice and two and a half glasses of broth). We let it cook for 10 minutes with a Sorong fire and then we put into the oven for ten more minutes (previously heated 180º). Then we take it out of the oven and let it stay (we cover with aluminium foil for a while until we take it to the table).
⦿ And for the chopped herbs, we are going to use a cooking mortar. We press all the ingredients in the mortar and when the rice is ready we are going to spread it on the stew and we stir it a bit, so that it gets the right flavour. You can also add the picada before cooking the rice in the oven. :-)
⦿ And we serve it with home made mayonaise. That is how we cook it. In the electric hand blender container we are going to add the egg. Then we add the half a clove of garlic, some salt and the lemon juice. We insert the hand blender to the bottom and begin to blend; we are going to add the oil (have sunflower oil and half olive oil) slowly lifting the blender and you will see how the mayonnaise emulsifies and thickens. If you see it is very liquid you should add some more oil. And what happens if the mayonnaise goes wrong? Easy solution, we put another yolk into a different container, blend it and then we add gradually and slowly the mayonnaise batch from before, taking care to stir whenever you add another bit. If it is a bit thick, you can lighten it by adding a few drops of lemon juice
We really hope you enjoy it as much as we did :-)