Roasted Pork Tenderloin, cooked with Sweet Sherry Wine, Tintilla de Rota (Solomillo a la Tintilla de Rota)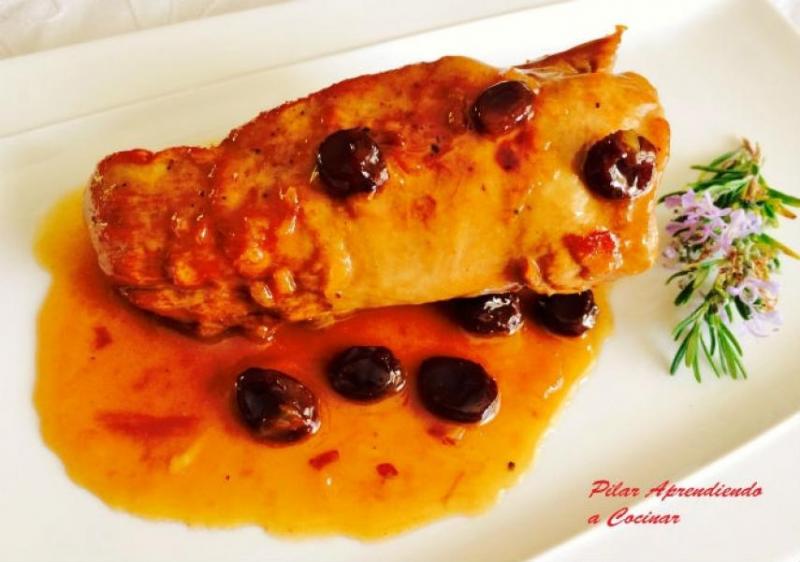 This Week we are cooking a very nice recipe Roasted Pork Tenderloin, cooked with Sweet Sherry wine "Tintilla de Rota" - Solomillo a la Tintilla de Rota, to enjoy with family and friends and cooked with the most typical Sherry wine in Rota, our sweet Sherry wine "Tintilla de Rota". There are two local wineries that produce these tasty and delicious Sherry wines, Bodegas El Gato and Bodegas Ferris :-) You can enjoy this special Sherry as appetizer and also with your dessert. In this case, we have used a great Tintilla de Rota from Bodegas El Gato, a family business which is working very hard to bring the Tintilla sweet Sherry wine back where it was many years ago. It is a Sherry which was well known throughout Spain and at the International level :-) It is really delicious :-) And now, enjoy this recipe and have a great week :-)
---
Ingredients
1 Pork Tenderloin Roast – approximately 2 ¼ lbs (1 kilo)
Olive oil
1 Sherry Glass Tintilla Sherry Wine (6 oz.)
½ Medium White Onion
1 Clove of garlic
1 Tablespoon flour
1 1/16 cup (250 ml) meat broth
(You can substitute using a beef Bouillon cube dissolved in water)
Handful of dark raisins, pre-soaked *
Salt
Ground black pepper
Preparation
⦿ First of all we are going to start seasoning the pork tenderloin roast all over with salt and ground black pepper. Add 2 tablespoons olive oil to a frying pan on High heat to sear the roast. Add the pork tenderloin roast and begin to brown it on all sides. Turn it as needed to brown it all over. Once browned, we will take it out of the pan and set it aside.
⦿ In the same hot pan, deglaze with the Tintilla sweet Sherry wine and we are going to stir it so that the flavors mix well and we get all the brown bits on the bottom of the pan.
⦿ In another pan with three tablespoons olive oil we are going to sauté the minced onions (cut brunoise style—about 1/8" x 1/8" x 1/8" dices) and then we add the minced garlic. Once sautéed, we are going to add the flour and mix completely with the onions and garlic. Cook slowly for a couple of minutes so that the flavors mix and then we are going to add the meat broth, the pre-softened raisins⦿ and stir everything again. Then add the sauce obtained from deglazing with the wine and the oil and stir everything.
⦿ It is the moment now to put the tenderloin in the pan, put the lid on and let it cook for 30 more minutes, medium heat.
And ready :-) let it cool down a bit and serve it at the table :-) You will see how tasty it is and the great flavor the Tintilla Sherry wine gives to this tasty dish. We are going to fry some potatoes to accompany this meat. You can also prepare some rice, some baked potatoes, some potato purée, …! It is up to your taste ;-)
⦿ Use pre-soaked, softened and plumped up raisins, by placing them in a small bowl and cover them with boiling water. Let them steep for 5-10 minutes and then drain them thoroughly.