Scrambled Eggs with Gulas and Iberian Ham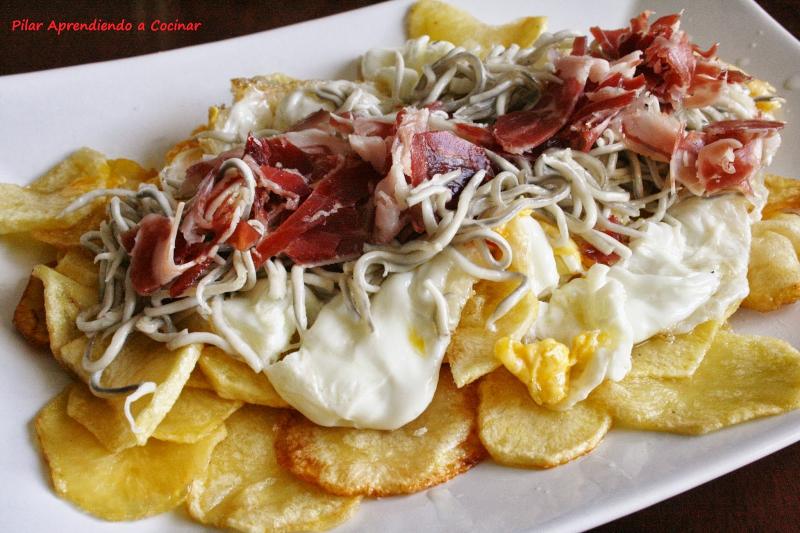 This is in fact a recipe we really love. It is very easy to prepare and specially very yummy. We cook it at home often. It is very important to use a nice Iberian ham, the taste is very special. We share now our recipe and we really hope you enjoy it very much:
---
Ingredients
* 3 eggs
* 2 potatoes
* 400 grs. gulas (fake baby eels) (2 packets)
* 100 grs. iberian serrano ham
* 3 cloves of garlic
* 2 cayenne
* Olive oil
Preparation
⦿ We cut the potatoes into half slices, salted them and in a good pan we will fry them in plenty of oil until they are fried. We put them to drain the excess oil in a dish with absorbent kitchen paper.
⦿ Then in the same pan and with the left oil will fry the eggs and keep aside.
⦿ And finally we will cut the cloves of garlic in slices and will fry them in the same pan together with the Cayenne. Once roasted, we add the baby eels and fry them well, stirring well so that it gets the flavor of the garlic and the hot of the baby eels.
⦿ In a tray, we first place the fried potatoes, then the fried eggs and we are going to break the eggs with a spatula over the potatoes and stir, so that both ingredients are mixed well.
⦿ And now to finish with we will place on top the fried baby eels in garlic and Cayenne, as well as the chopped slices of ham and we can now serve them at the table.
And to eat and enjoy this dish, we are going to scramble everything well ☺ And don't forget to get a good bread, and of course, a good glass of your favorite wine ☺