Snickerdoodles, recipe by our friend Amos Webb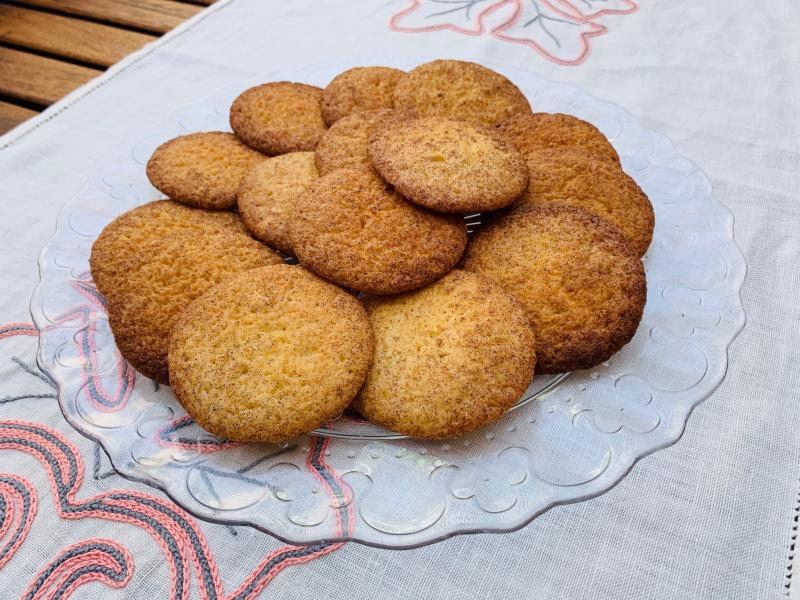 Some days ago, our friend Donna gave us a package containing some cookies and we tried them we really loved them. They were just delicious :-) And they had been baked by her husband Amos who has been so kind and generous as to share his recipe with us all. Thank you very much Amos for such nice cookies and of course for sharing your recipe with us. We really hope you enjoy them as much as we did:
---
Ingredients
300 g sugar
225 g butter
2 eggs
285 gm all purpose flour
2 tsp cream of tartar
1 tsp baking soda
¼ tsp Sal
1 tsp vanilla
½ tsp Almond extract
Mixture to roll the dough in:
2 Tablespoons sugar
2 Tablespoons cinnamon
Preparation
⦿ Cream together sugar and butter.
⦿ Add the eggs and mix thoroughly.
⦿ Sift together the flour, cream of tartar, baking soda, and salt.
⦿ Add the flour mixture to the sugar in thirds. Add the vanilla and almond.
⦿ Extract and mix thoroughly.
⦿ Chill the dough overnight.
⦿ Roll into balls and coat in the cinnamon and sugar mixture.
⦿ Bake on parchment paper at 180 C. for 10-12 minutes.
Amos notes and recommendations:
⦿ Use butter and eggs at room temperature.
⦿ The dough will very sticky. It is good to mix it very thoroughly to make it light and fluffy.
⦿ The cookies will bake much more evenly if they are the same size; He weighs the cookies to 15 gms each
before coating with the cinnamon.
⦿ He keeps the cinnamon and sugar in a closable container. Since he makes several batches he uses a container
large enough to hold and several cookies at once.
⦿ The dough get sticky very quickly when out of the refrigerator. He makes a dozen or two at a time and
return the dough to the refrigerator.
⦿ The cookies seem to bake better when the dough is chilled after coating.
⦿ He also presses the dough balls lightly onto the parchment paper to keep them from moving while he puts
them in the oven.
If the oven is a bit warmer, the cookies tend to spread less.
Thank you Amos for such a great and delicious recipe that we have enjoyed very much :-)